How to spot a fake Hermes Bag -And The Difference Between Kelly vs. Birkin !
Every Celebrity and their mother is either rocking or has rocked a Hermes bag,and you are thinking about investing in one as well. Where to start? and,
What is the difference between the Hermès Birkin bag and  Hermès Kelly bag anyways ?
And how to tell if your Hermes bag is fake ?
Kelly vs Birkin

There are many different brands of ladies bags available in the market, but two names occupy special places in the hearts of fashionable women around the world. This is not just because these two bags have exceptional quality and good looks; it is also because of the cleaver manner in which they are marketed to create a niche for themselves. For a common man, Kelly and Birkin may be just other pieces or objects that are meant for the filthy rich, but for those for whom money does not matter, Kelly and Birkin bags are much more than just bags. They are status symbols for the rich and fashion conscious women and have many similarities to confuse people. However, there are still differences between these two high quality bags that will be enumerated in this article.
Vintage fashion at Christie's: Is that a fake Hermes bag?
Kelly and Birkin are brands owned by Hermes, a French manufacturer renowned all over the world for its excellent quality of leather bags. The company is very old, having been founded in 1837, and it makes many other quality products such as perfumes and ready-made goods. However, this article is about the two brands of leather handbags that it makes, namely Kelly and Birkin. Both bags are very high quality and symbolize high class and fashion. Both are very expensive too.
Birkin
Birkin brand belongs to Hermes who manufactures these premium quality handbags after singer and actress Jane Birkin. The company introduced this label for high class women who were also fashion conscious. These handbags are made from calf leather, and they are priced from $9000 to $150000. It is hard to imagine if so much money goes into making ladies handbags, and the reason for the price tag being so high is to keep them elusive and away from the reach of the common man. Birkin handbags are made from different materials and are available in different shapes and sizes. You can have a custom made Birkin bag if you have money. These bags are made from the leather of not just calves but also crocodiles, lizards, ostriches, and goats. Birkin bags are available in many different colors. The bags are handcrafted and carry the distinct saddle stitches that Hermes has become famous for.
The Hermes Birkin bag vs Hermes Kelly bag
Kelly
Kelly is a brand owned by Hermes that is renowned all over the world for its high quality hand bags. Kelly bags have an aura around them and are considered one of the most coveted hand bags among the rich and the fashion conscious. These bags were named after the Princess of Monaco Grace Kelly who was spotted with one such bag in 1956. Kelly bags have been a big hit ever since then and rich and the famous don't mind waiting for months, to have their hands on one of these bags despite their high price tags.
• Kelly is a bit more formal than a Birkin that is believed to have a sporty style.
• Kelly is named after the Princess of Monaco, whereas Birkin is named after singer and actress Jane Birkin.
• Birkin bags are a little larger than Kelly bags that are considered formal because of this reason.
How to authenticate Hermès Birkin Handbags
Hermes Birkin
Shape
The authentic bag's shape is crisp and pronounced, whereas the fake bag's shape shows bulges where you would expect a straight line.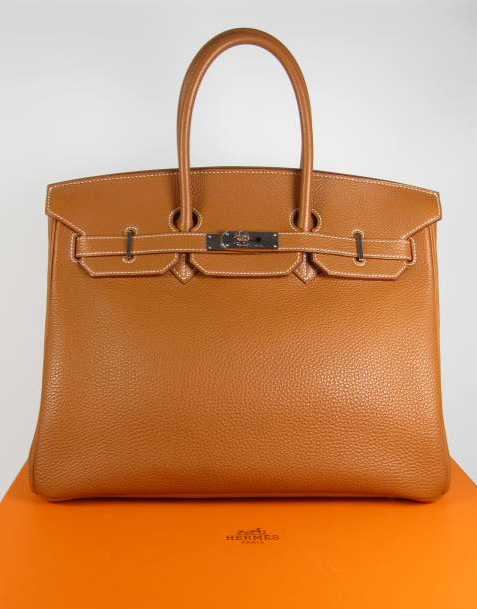 Authentic Hermes Birkin (front)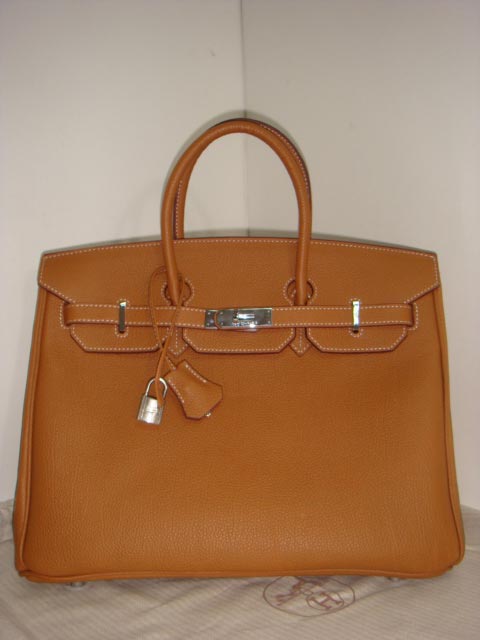 Fake Hermes Birkin (front)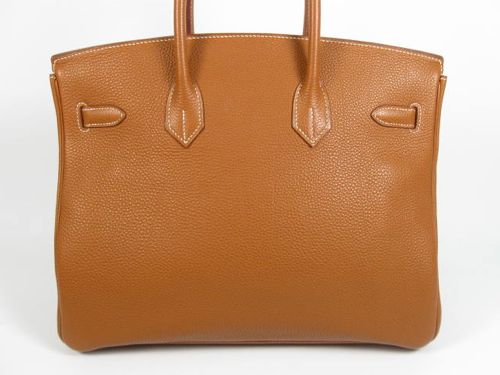 Authentic Hermes Birkin (back)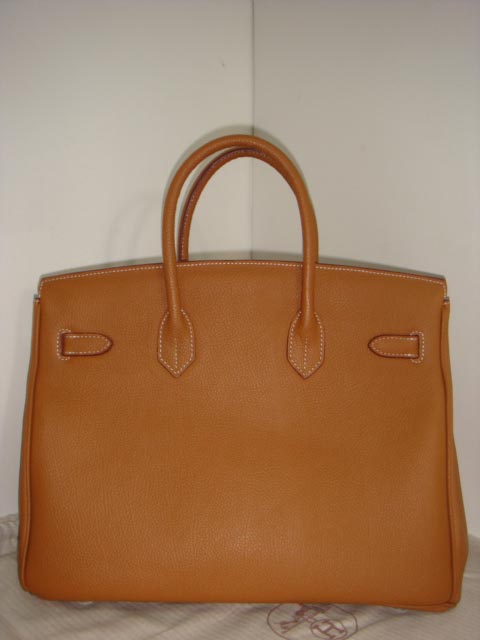 Fake Hermes Birkin (back)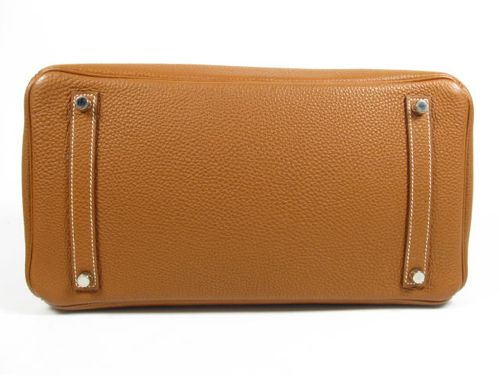 Authentic Hermes Birkin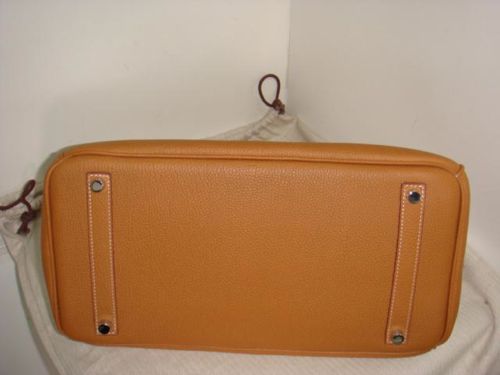 Fake Hermes Birkin
---
Stamp & Contour
The stamp on the authentic bag is clean and uniform, but the stamp on the fake bag looks spotty and irregular. Also, the authentic bag has a slight indented contour above the seam, which is missing from the fake bag.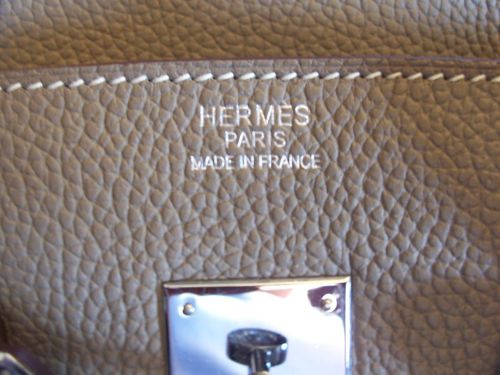 Authentic Hermes Birkin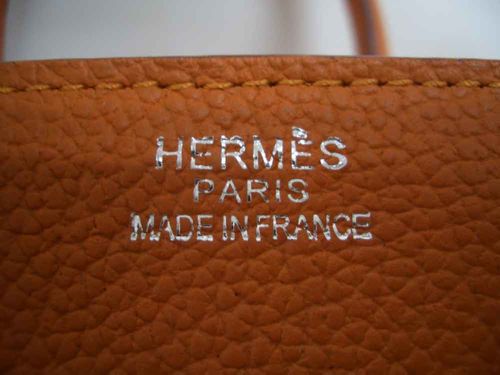 Fake Hermes Birkin
---
Hardware
The engraving on the authentic bag's hardware, is thin and refined, but the engraving on the fake bag's hardware is deeper, wider, and the letters are further apart.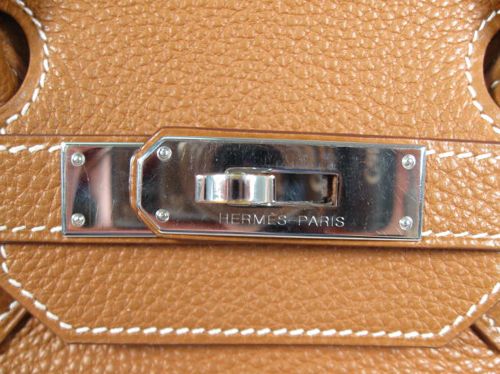 Authentic Hermes Birkin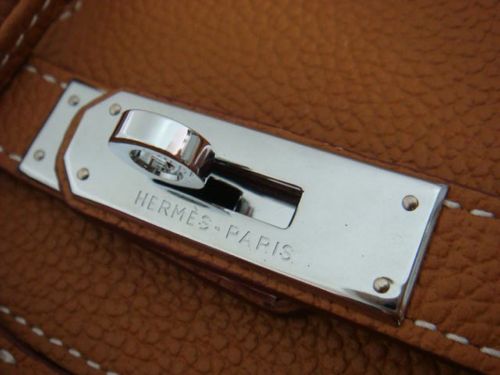 Fake Hermes Birkin
---
Inside strap
For the authentic bag, the cutout of the inside seam is neat, but on the fake bag, the cutout rough.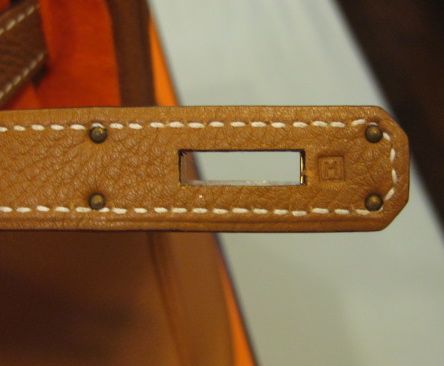 Authentic Hermes Birkin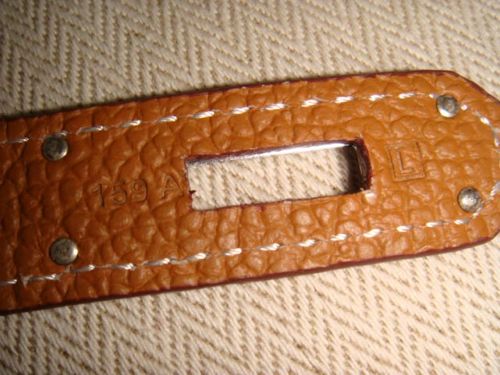 Fake Hermes Birkin
Zipper
The authentic bag's zipper pull has contours, the fake bag's zipper pull does not.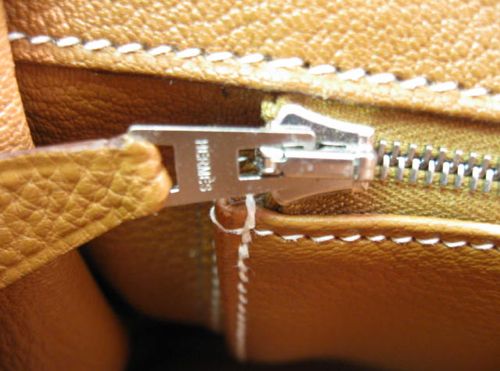 Authentic Hermes Birkin
Fake Hermes Birkin
---
Inside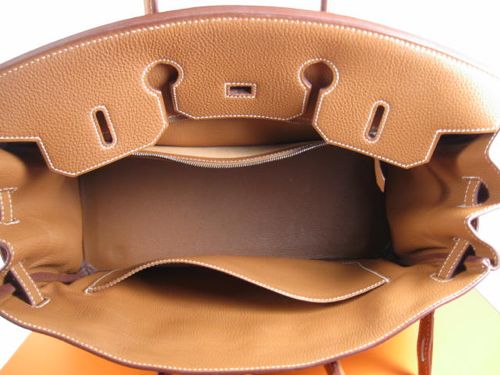 Authentic Hermes Birkin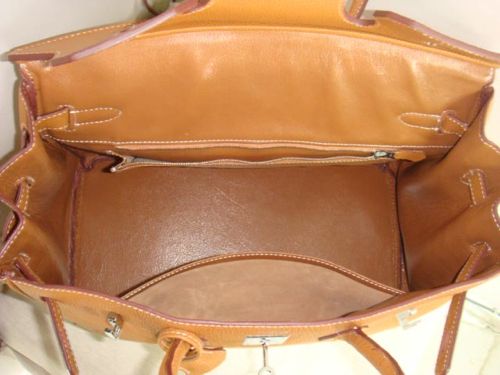 Fake Hermes Birkin
---
Lock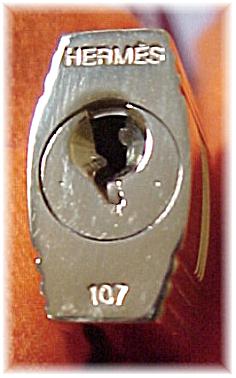 Authentic Hermes Birkin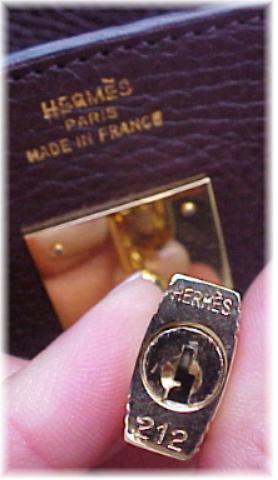 Other Designer Bags:
LOUIS VUITTON – Telling Fake from the Genuine
How to authenticate Gucci
Credit:Bagbible.com /differencebetween.com